Paleo Teriyaki Chicken with Cauliflower Fried Rice
Healthy Paleo fried rice makes everything nice.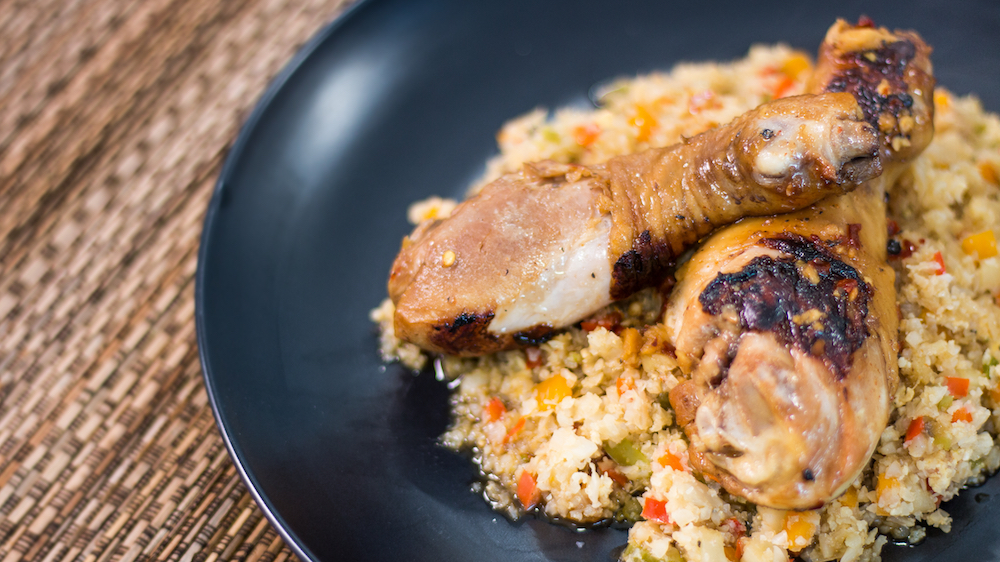 Ingredients:
12 chicken drumsticks
6 cloves of garlic minced
1&1/2 cup of coconut aminoes
1 cup of sesame oil
1 tablespoon of dried chilli flakes
1 teaspoon of cayenne pepper
3 tablespoons of grated ginger
4 carrots small diced
4 stalks of celery small diced
2 parnips small diced
4 red peppers small diced
3 green peppers small diced
1 red onion small diced
3 cauliflower (put through food processor to make "rice")
3 eggs scrambled
salt and pepper
1/2 cup coconut oil
aluminium foil
Method
1) Mix 1 cup of coconut aminos, 1/2 cup of sesame oil, 2 tablespoons ginger, 4 cloves of garlic, chilli flakes and cayenne pepper, whisk till combined.

2) Preheat oven to 350 degrees Fahrenheit.

3) Marinate chicken in a large oven ready dish, cover dish with aluminium foil and bake chicken in preheated oven for 40 minutes.

4) In a large pan heat 1/4 cup of coconut oil, add onions, peppers, carrots, celery, parnips , 2 cloves of garlic and 1 tablespoon of ginger, cook for 5 minutes until tender, stirring regularly.

5) Cauliflower rice, 1/2 cup of coconut aminoes, 1/2 cup of sesame oil, stir to mix through, season with salt and pepper, cook for 5 minutes.

6) Clear space in the pan by moving everything to one side, on the empty side add scrambled eggs and cook slightly(1 min), than mix through the rice.

7) If desired, once the chicken is cooked heat a separate pan with 1/4 cup of coconut oil, once heated crisp the outside of the chicken in the hot pan, 8) the marinade from the chicken can be used as a sauce.