Paleo Granola Breakfast
Craving cereal while on a Paleo diet? Our nut-based low-carb granola will satisfy those cravings, guilt-free.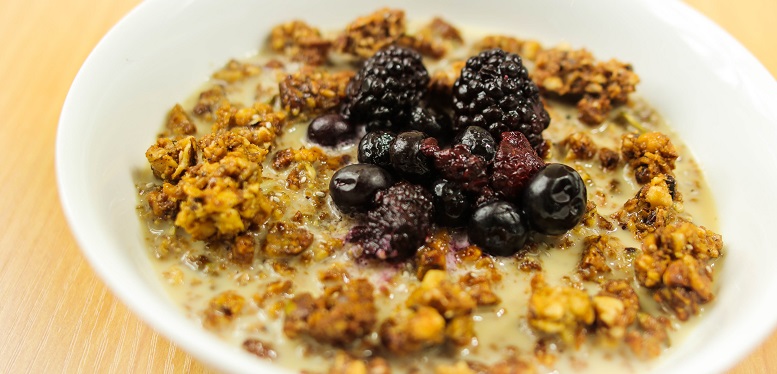 Ingredients:
¾ cup macadamia nuts
¾ cup brazil nuts
¾ cup almonds
¾ cup hazelnuts
1 ½ cups desiccated coconut
½ cup pumpkin seeds
½ cup raw honey
1 tablespoon vanilla extract
¼ cup coconut oil
2 tablespoons chia seeds
Method
1. Preheat oven to 300F (150C) on fan bake.
2. In a food processor, blend up the nuts until they are broken into smaller chunks.
3. Microwave together the coconut oil, raw honey and vanilla extract in a mixing bowl for 30 seconds on high.
4. Stir until well blended, and then stir in the chopped nuts, pumpkin seeds and desiccated coconut. Leave the chia seeds aside for now. Mix well.
5. Line a baking tray with baking paper and spoon the mix onto the tray. Spread out and flatten.
6. Bake for 20-25 minutes, until the mix is lightly browned. Stir the mix once or twice during this time.
7. Remove from heat and allow cooling for about 20 minutes or until hardened.
8. Break the mix up into chunks by wrapping the cooled granola in the baking paper and forcing it into a ball-like shape. Press the wrapped granola down firmly on a hard surface using your hands, until it is all broken up.
9. Add the granola to a bowl or container and stir in the chia seeds.
10. Serve with almond or coconut milk. You can also add fresh fruit on top – berries and bananas are great!
11. Store the left-over granola mix in an airtight container. You can keep it for up to two weeks. Enjoy!