Paleo Curried Lamb Hotpot
Mmm...Perfect for a cold winter's evening, this curried hotpot will beat all others.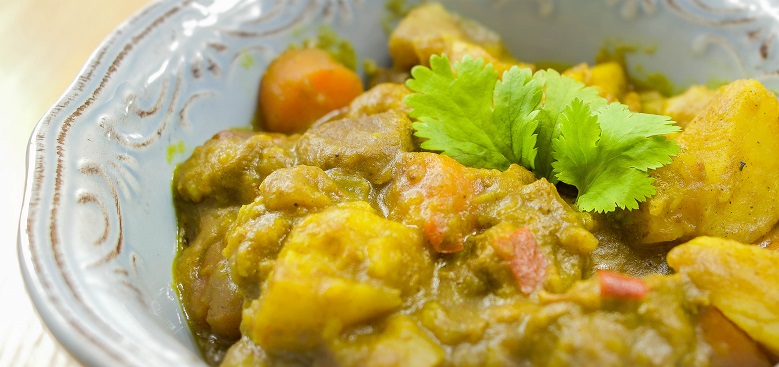 Ingredients:
2 tablespoons coconut oil
3 cups coconut cream
2 pounds (1 kilogram) boneless lamb legs, diced
4 carrots, sliced
4 celery sticks, diced
3 sweet potatoes, peeled and chopped into small cubes
2 long red chillis, deseeded and finely chopped
2 tablespoons garam masala powder
1 tablespoon turmeric powder
1 teaspoon fennel seeds
3 tablespoons tomato paste
2 cups water
1 teaspoon sea salt
Fresh cilantro (to garnish)
Method
1. Heat 1 tablespoon of coconut oil in a large saucepan or stock pot on high.
2. Dice lamb to bite size pieces, chop the chillis and celery.
3. Add the diced lamb and stir until it is lightly browned. Add in the chillis and celery and cook for about one minute, until slightly softened. Bring the heat down to medium.
3. Add in the garam masala, turmeric, fennel seeds and 1 more tablespoon of coconut oil. Stir in well with the lamb and cook for 2 minutes to let the spices release their aromas.
4. Add in the tomato paste and sea salt and stir.
5. Gradually pour in the coconut cream and one cup of water. Stir and bring to the boil, then turn the heat down to low and simmer for 2 hours, with the lid on. Stir a couple of times during this time.
6. After two hours, remove the lid and add in the sliced carrot, cubed sweet potatoes, and another cup of water.
7. Stir, bring to the boil and then reduce heat and simmer curry for a further 40 minutes with the lid off. Stir occasionally.
8. Serve this delicious curried hotpot into bowls and sprinkle over fresh cilantro to garnish.
9. Enjoy!